July 25th, 2015—Anaheim Convention Center. As the summer heat in Southern California began to rise early in the morning, so did I. Not knowing what to expect, I packed my things (comfortable shoes, camera gear, open mind) and headed out to the Anaheim Convention Center located mere minutes from the hotel I was staying at. There were a few things I noticed upon arrival. There were trendy food trucks being set up for lunch, hundreds of teenagers waiting in line for a meet and greet, and stages being set up for performances later on in the day. This was some sort of mecca for YouTube stars and fans alike. A gathering of millennial teens and pre-teens clamoring to see their favorite content creators—hoping to get a hug and a selfie with them.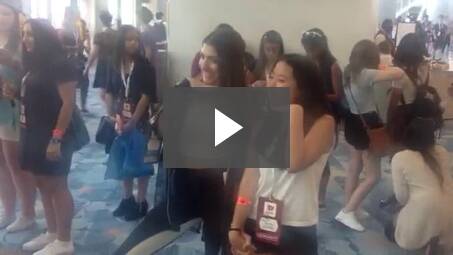 Rachel Levin of RCL Beauty 101 visits with some of her three million fans.
VidCon 2015, attracted close to 20,000 attendees and was broken down into three areas. The first being the main floor—the place for the fans to run wild and shriek with joy as they watched or met YouTube celebrities. This was called the "Community" floor. The other two areas were upstairs, and this was where "Creators" gathered along with "Industry" professionals. Essentially, upstairs there was a place to listen to some of these YouTube experts talk about themselves, how they got to the place that they currently are and what the future holds. Talks ranged from the latest developments of VR (virtual reality) to eating a bowl of cereal for an hour and doing a Q&A (silly, I know).
Overall, the talks were very informative and if you listened, you could really get good information on how to market yourself and get excited for what the future holds. For example—during the Keynote Press Conference held on the third-floor, Co-Founder of VidCon, Hank Green, addressed the crowd in style. He talked about the early years and the history of online video. He continued on about how all of this is still brand new, the wild, wild west of the Internet if you will. That this is a place where online video trends can determine if your video will get 100 views or 100,000. He said that you need to "constantly create content, to be honest". Others talked about similar discussions, like understanding online video marketing, so you can get your brand out to the people.
Allen Sarinana snaps
a selfie with a fan.
What I ultimately got out of VidCon 2015, was the power of the youth. They truly hold the keys for the future of interactive video and Internet marketing. The older generations don't quite understand the Internet like the kids these days. And, why should they? Well—if they want to stay in business—they better. More teenagers are subscribed to certain YouTube channels than there are people in entire states. The future is with the generation who watches shows on the Internet rather than shows on television.
Subscribe to our BLOG
Stay in touch & learn how to attract customers, become a thought leader, create effective marketing campaigns, & more.
You might also be interested in:
---