With every passing year, the ubiquity of the Internet becomes further and further embedded into our culture and society. The growth of the digital marketplace is accelerating, as more businesses upgrade their online presence and become more competitive in terms of optimization and interaction. In today's FAQ Friday, we tackle some common questions pertaining to the immediate future of web development.
When can we expect to see the rise of hand/motion-based website design?
The use of smooth animations for seamless transitions is already being used by the business world's top companies. With such an importance being placed on UX/UI, web developers are always striving toward a modern-looking, beautifully simple website design. (For a quick tutorial on website animation, click here.)
Expanding more on the idea of simplistic design, we are already seeing an increased prevalence in bold and large typography, so this should only continue to become commonplace. People often want engaging and compelling ways to get their information quickly, so this will lead to a rise in the use of videos and other storytelling visuals. As JavaScript ups the ante on regular updates and expansion, Angular and other frameworks will allow developers an ever-growing toolkit with which to build awesome websites. In the next few years, movement-based interfaces will probably become a staple on the web.
What is the current state of AI in terms of website development and design?
The biggest companies like Facebook, Google, and Wikipedia already employ a robust set of AI systems which help refine search queries, remove incorrect information/data, and use automatic facial recognition (as shown in the following photo).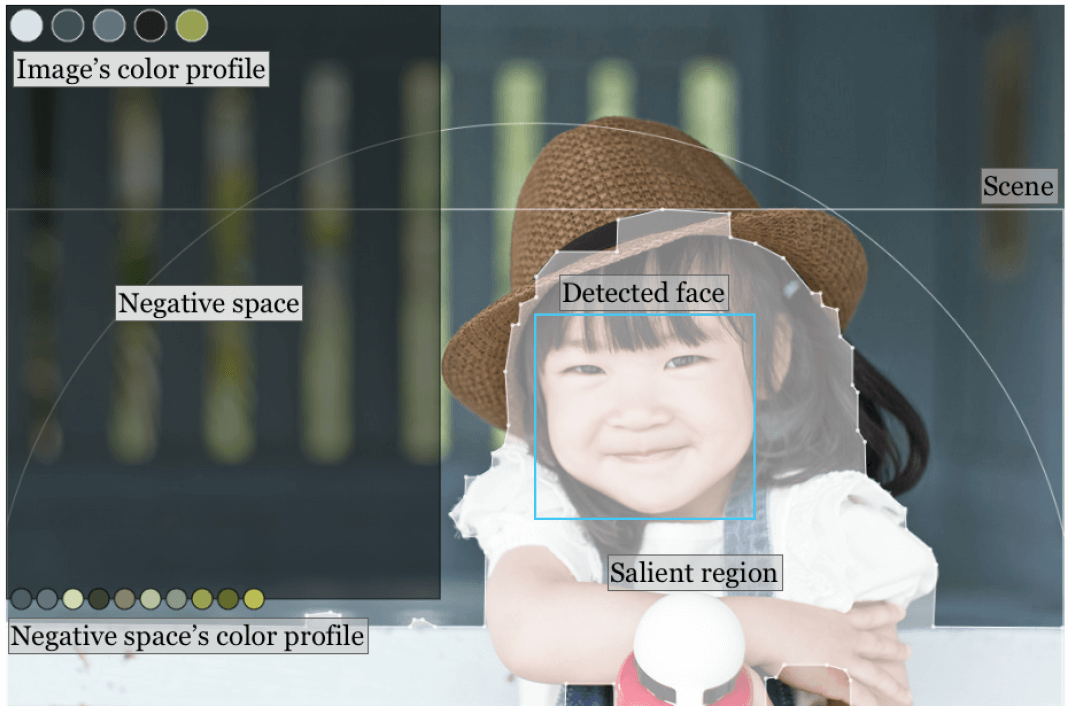 More and more language, framework, and software programs are relying on artificial intelligence to take unnecessary human labor out of the equation. This allows companies to stay lean while still creating beautiful, functional websites. "Molly," the name given to the AI-presence from The Grid, is a humanless website designer which provides you with options for layouts and page design. As the company website says: "Having an AI designer in your computer 24 hours a day is a more economical way to have various layout designs."
What is the Internet of Things and how will that change the product marketplace?
The Internet is moving from computers to phones, and now into our household appliances. It used to be a novelty to have a touch screen on your coffee maker, and that was just a few short years ago. Now, the cutting edge is to start that cup of coffee from your bed with the press of a button. As technology advances, there is an increasing demand for the Internet to allow us to control every facet of our lives, usually from apps (or chatbots) on our smartphones. Just look at Mark Zuckerberg, who used his own AI code to synchronize everything in his house, from garage door to toaster oven. There are a ton of open-ended possibilities as the Internet continues to expand. But be warned: hackers have a whole new world to play with too. So, if you're getting into this field of development, make sure your security is as high as possible.
How are bots changing the way users interact with websites?
As the algorithms of bots have become more complex, their practical use as an online communication tool has increased dramatically over the last few years. Going beyond a simple call-and-respond FAQ tool, today's best bots show personality, and help reinforce the company's ideology. Customer service and sales have become more automated as computer programs eliminate the need for 1-on-1, human-to-human dialogue.
That's not to say, however, that once a bot protocol is put into place that it should be left unmonitored. Andrew Yaroshevsky, COO of ChatFuel, offers some sage advice: "Depending on how sophisticated you want to make your bot, you can program the AI engine to have fairly decent conversations with users, which are context-aware, and in some cases even sentiment-aware. While we do not recommend trying to make your bot pretend like it's a live human being (you won't win), with enough desire and work you can build a bot that will be able to hold its own in a conversation with a human, within a given scope."
Of course, bots are prone to flaws that take away from the goal of an authentic company-to-customer experience. However, more users (especially younger users) don't mind "speaking" with a bot instead of a human, and this trend will continue to become more prevalent over the next several years.
What is Conversational Commerce?
Conversational Commerce refers to using chat, messaging, or other natural language interfaces to interact with people, brands, services, and bots. We find it completely reasonable to read discussions, complaints, or praise of companies on social media like Facebook and Twitter, whereas these channels did not even exist a few years ago. With the normalization of online communication into our daily lives, businesses are becoming savvier at using that communication to increase brand awareness and improve customer service.
Using chatbots as well as diversifying communication mediums grants businesses a lean adaptability that can find new ways to reach their ideal consumer. Websites, including mobile, are moving towards aesthetic, simplistic designs that are informational yet inviting. Conversational interfaces will continue to augment themselves, allowing businesses more expression in their brand fundamentals as well as making them more approachable.
Is the messaging app rising in popularity?
Just 3 years ago, messaging apps were considered one-dimensional: user's login, chat with each other on a personal, individual level, and that was that. But the last few years have seen an explosion in new uses, not just in numbers of logged in users, but a myriad of extra applications as well. Users around the world are logging in to messaging apps to not only chat with friends but also to connect with brands, browse merchandise, and watch content. With the largest messaging apps (ex. Facebook Messenger) having hundreds of millions of monthly active users, it's no wonder that businesses have started to explore new software and APIs to stay ahead of the trend.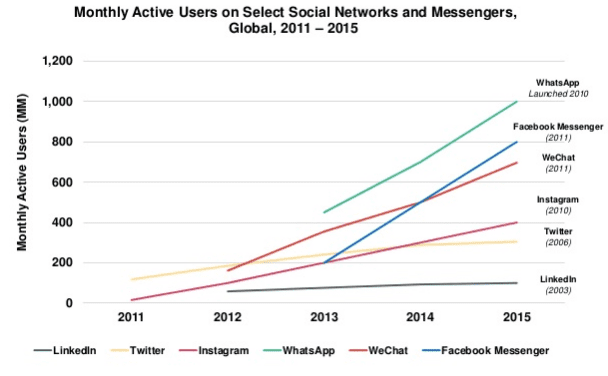 As stated earlier, chatbots are beginning to drastically reshape the kinds of interactions that companies are able to have with prospective customers. Even if your business isn't ready to deploy chatbots, it is worth exploring these new channels like Messenger and WeChat to find and connect with new target clients.
How will VR and 360-degree video change the way users interact with brands and products?
While the Oculus Rift was the first major VR headset system to hit the market, we've seen a healthy mix of competitors including Google's Daydream and HTC's Vive. Although the first major application was for videogames, virtual reality will transform the way companies and customers think about entertainment. Brands can express themselves in creative, immersive ways so that it leaves the viewer with an authentic, lasting memory. And it's no gimmick: early studies are showing that, although 360 videos have a lower view rate, they have a much higher click-through rate. Not only that, but 360 videos are much more likely to be shared on social media, implying an increase in online presence and brand awareness. The virtual reality industry truly is on the precipice of a major expansion, so savvy companies are rushing to be the first of their competitors to master the art of VR-marketing.
If you have questions you would like to see featured in our weekly FAQ Friday, please submit them in the comments below, mention us @DirectImages on Twitter, or submit your questions HERE. Until next FAQ Friday, keep your communication lines open. Don't know the answer—just ASK.
Subscribe to our BLOG
Stay in touch & learn how to attract customers, become a thought leader, create effective marketing campaigns, & more.