Millennial media, Generation Z broadcasting, the YouTube Generation. This is not a fad that is going away. In fact, Internet broadcasting is growing exponentially. In addition to premium based streaming content networks like HBO Now, Amazon Prime and Netflix, niche programming continues to grow.
What did you learn from VidCon 2015?
As a new generation of social video content creators evolves, traditional media is being used less frequently, partly because access to promotion or broadcasting through traditional media is expensive and difficult to tap into and partly because niche audiences demand an infrastructure like the Internet. According to a recent Nielsen report, traditional television viewership is decreasing, while digital viewership is increasing. Generation X is already making an impact with year-over-year digital viewership growth of 80%. The millennial generation which grew up with the Internet, is part of a paradigm shift in content creation, video distribution and viewing habits. Brands and multi-channel networks (MCNs) are testing the waters and aligning themselves to new audiences.
What is VidCon?
VidCon is an annual event held in mid to late July in Southern California. It's a meet and greet business conference centered around online video and the culture code that accompanies online video success. The inaugural event kicked off July 10, 2010, with only 1,400 people in attendance. The individuals in attendance include online video creators, digital influencers, and business panels discussing the progress and trends of the online video community. Vidicon has since grown reaching almost 20,000 attendees at this year's event.
Who attends VidCon?
YouTube channel content creators and their fan base community make up the majority of attendees. Industry professionals that focus on online video distribution and brand strategy also attend.
Who are the top online video content creators?
Online video content creators range from one person broadcasting out of their bedroom to teams over 50 people. The top Internet broadcasting stars are drawing an astounding number of viewers. YouTube sensation PewDiePie racks up an audience of over 38 million viewers—well actually over 38,549,00 viewers, but what's a few hundred thousand viewers when you can round to over 38 million! Chilean comedian Germán Alejandro Garmendia Aranis has a YouTube channel of over 23 million viewers. YouTube celebrities Anthony Padilla and Ian Hecox of Smosh have amassed an audience closing in on 21 million viewers. Here is a list of the top 100 YouTube stars.
How did they do it?
Successful YouTube content creators have a good mix of personality, a determined obsessive passion toward their content and have a strong connection to their demographic.
"At VidCon 2105, video thought leaders weighed in on how to set up an Internet broadcasting ecosystem and discussed how to promote your YouTube channel." (Bill Knowland, YouTube Marketing Tips From VidCon)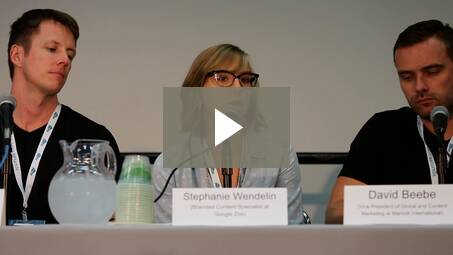 Matt Blanchard, Fullscreen and Stephanie Wendelin, Google Zoo discuss how online video content creators work with brands.
How do online video content creators work with industry professionals? Successful new media stars typically are represented by managers who work for the long term growth and career strategy of the talent. Agents work with for the talent directly or the talent's manager to secure financial deals.
What were the online video trends at VidCon 2015?
Interactive video is a trend that is growing. Video on demand is still prevalent, but social media video celebrities and their audiences are exploring new immersive ways to connect.
"I decided to test out some online video trends. There are two live streaming video services that are trending now: Periscope and Meerkat. Unlike Vine and Instagram, they aren't limited to micro video lengths of 15 to 30 seconds. You can stream live video for long periods of time. The best part about them though, is that they include live chat features." (Bill Knowland, VidCon2015, Live Social Media Video)
A Millennial favorite for live social media video is YouNow. It is a live stream video chat service specializing in youth community.
Subscribe to our BLOG
Stay in touch & learn how to attract customers, become a thought leader, create effective marketing campaigns, & more.
You might also be interested in:
---